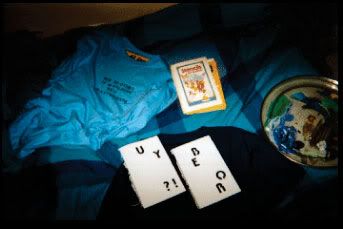 Ahh, the uberboy. I don't know where the "umlaut" is found on my keyboard and I never bothered to look. Still that didn't stop me from creating a folk-art t-shirt label and imaginary brand identity that identified strongly with the elusivity of the umlaut.
The concept of the uberboy, originally composed in text as (uberboy), is a bit of a mock on Nietzsche's ubermensch and its superhero foil, Superman. Philosophically, the (uberboy) is a young man whose belief system is based in the effort to better ones' self through achieving amazing, non-generic thoughts and an intrinsic sensitivity to the world that surrounds him. By focusing on the overlapping mapping of individuals' conceptual universes and their interactions, the (uberboy) attempts to both identify the unity while emphasizing his singularity. As a superhero, the (uberboy) is the consummate psychedelic boy scout. What's that I see? A girl on shrooms about to be date-raped by a frat boy on ecstasy? Swoop! (uberboy) defends the weak of mind from those that would prey upon them!
So, I made a t-shirt with "(uberboy)" on it. Painted with stencils and black fabric paint on a white t-shirt, I began wearing this shirt regularly around campus around spring of 2000. I eventually came up with what I feel was the (uberboy)'s catchphrase, "There's Nothing Freer Than a Dead Dolphin." I feel this statement expresses a whole lot of post-post-modern intellectualism and disgust, while also being devilishly appealing to those with a delightfully embittered sense of humor. I made that into a t-shirt too and painted "(uberboy)" on the back at the top of the collar. This was a beginning of the t-shirt phase of (uberboy).
The shirts were meant to act like a walking billboard for disturbing but well-phrased snippets of thought. I think the next shirt slogans that I came up with were: "Hump My Heart", "You Inspire Bile", "Bad Mojo, Good Karma", "Don't Expect the Bible to Accurately Quote the Devil", and the ever-so-ironic "Only Rock N' Roll Can Defeat Capitalism". All of them had the (uberboy) tag on the back. Eventually people started asking me for them and I began hand-painting them to order. A few people own about a dozen of them each, but I'd say in total I've probably sold between 200-300 hand-painted shirts since fall of 2000.
I've really slowed to a halt on production of these shirts.
The
uberboy.com website
is mostly defunct although you can find an unedited list of slogans that were available as well as several great .mp3s from my old college radio show which are all mash-ups I mixed live while broadcasting.
So I was going through my old stock of shirts that I have already made and figured I would put them up for sale here on the ninternet. Shirts are $14 shipped in the US or $20 for two, payment by paypal or in person.
Four Large Pink "Big Brother is Watching you Masturbate"
Three Large Pink "You Inspire Bile"
One Medium Light Pink "Bad Mojo, Good Karma"
One Medium Light Blue "High Maintenance Person..." the only one ever made of this slogan.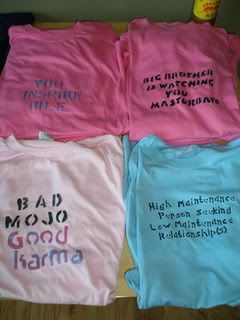 1 Med Navy "You Inspire Bile"
1 Small White "Character Assasin"
1 Small Light Blue "This is a Stick Up"
1 Small Red "Bunnies, Sheep, Squirrels...The New Class Struggle"
1 Child's 10/12 "Baby No Name" is a good fit for some girls, but as Morrissey can tell you, some girls are bigger than others.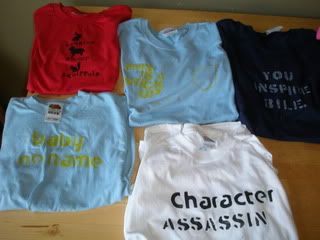 Fancy Ladies' Shirts
1 Large Orange "Nothing Freer.."
1 Medium Green "Nothing Freer..."
1 Small Orange "My Mom's A Riot"
1 Extra-Small Orange "My Mom's A Riot"
1 Large Blue "Bunnies, Sheep, Squirrels..."
1 Small Black "Gun-bunny Logo"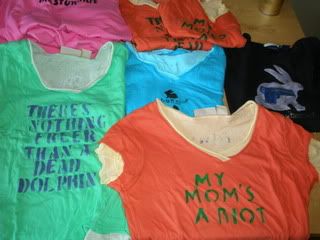 The backs of "bunnies, sheeps..." and "Big brother is watching.."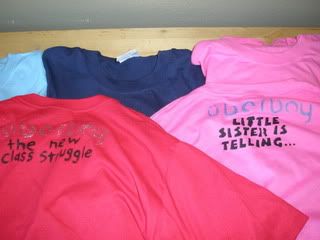 Real Juicy Couture "Original Satire" Hoodie, size small: $45 shipped in the US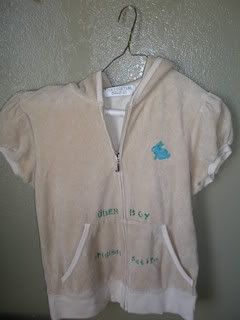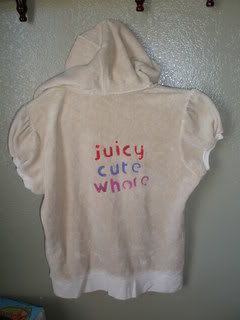 email me at noblemonkey@gmail.com if you are interested in a shirt. That's 1 for $14 or 2 for $20 including shipping in the US.